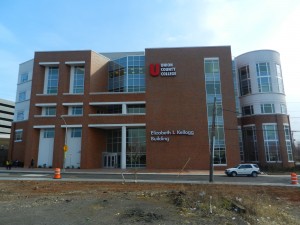 Located in the heart of downtown Elizabeth, the Elizabeth I. Kellogg building is the academic hub of Union County Community College, Elizabeth.
Developed by the Union County Improvement Authority, the $48 million Kellogg building houses degree programs, continuing education offerings, a lecture hall, a state-of-the-art information commons and library, and serves as home for the Trinitas School of Nursing.
Union County Community College is New Jersey's oldest community college – dating to its opening in 1933 – but the Kellogg building provides the very latest in data and voice infrastructures to support the most sophisticated computer hardware and software.
The top floor of the building serves as the headquarters of the college's customized training arm – the Industry Business Institute (IBI) – and also provides a conference center and office suites available for economic development offices.
The Kellogg building serves as many as 8,300 students, including 2,300 from the Trinitas Nursing School.
The UCIA financed this project, and the State of New Jersey contributed $19 million.