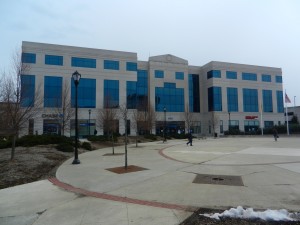 Developed by the County of Union and the UCIA to help revitalize downtown Plainfield, the Park-Madison Urban Renewal complex was completed on time and under the original $48 million budget.
 Located at 200 West Second Street, it is a large-scale public/private redevelopment project consisting of:
A 100,000-square-foot Class "A" Administration building
A 360-care multi-story parking garage
Two free-standing retail buildings totaling 26,000 square feet of space
Public Plazas
Park-Madison Urban Renewal is also the home of both the State of New Jersey and the County of Union Social Services offices.
The complex is currently managed by the UCIA.